What is Hemangiopericytoma?
Hemangiopericytoma is a rare, painless and usually asymptomatic tumor affected in soft tissues and blood vessels. Blood vessels present in all over the body and hemangiopericytoma tumors are formed anywhere in the body, because of adjacent blood capillaries. The common sites where Hemangiopericytoma mostly located are the brain, head, neck, pelvic area and lower extremities.
The nature of the tumor of Hemangiopericytoma either benign or malignant. The malignant tumor of the Hemangiopericytoma can extend to another bodily region, mainly the lungs and bones. Hemangiopericytomas can be located in the nasal cavity and paranasal sinuses. Though rare, their prognosis is better because they tend to be less aggressive and do not metastasize1.
Hemangiopericytoma Case History
Lindi Senez is a wife, as well as a caregiver of Dave Senez, who had Hemangiopericytoma. Lindi described the case history of Dave after his death. Dave Senez was suddenly had double vision in the year 2006. The underlying cause was not discovered immediately, but later extensive diagnostic process detected that Dave Senez was suffered from Hemangiopericytoma.
The Hemangiopericytoma tumor was located on the Dave Senez's  brain. After discovering the underlying cause, several treatments like brain surgery and radiation were incorporated in 2007. But in 2010, Hemangiopericytoma tumor recurred. Few treatment options were left to treat the condition that included  gamma knife radiosurgery, extensive radiation, and chemotherapy, even he also joined a clinical trial to establish the efficacy of laser ablation. But he went abode on 20142.
Hemangiopericytoma prevalence rate
The children are less affected than adult or infants. Usual onset of Hemangiopericytoma tumor is at 50 years of age of the adult. Less than 10% are covered infantile incidence in comparison to all prevalence rate of Hemangiopericytoma. Only 3% Soft tissues sarcomas were affected with Hemangiopericytoma tumor3,4.
Hemangiopericytoma Pathology Outline
Hemangiopericytoma tumor growth is dangerous as it develops in the deep soft tissues. The Hemangiopericytoma tumor can occur anywhere in the body. Muscle tissues are most frequently affected, whereas subcutaneous and dermal hemangiopericytoma tumor growth is less frequent3,5.
Hemangiopericytoma symptoms
The symptoms are totally depending upon the site of the tumor, type of tumor i.e. non-cancerous (benign) and cancerous (metastatic) and stage. The following symptoms are identified in different case studies3,4:
Lobulated inflammation without tenderness
Warmth at the Lobulated inflammation
Deep-seated lobulated inflammation
Outer covering skin is unchanged
Inflammation can restrict localized locomotion
Lobulated inflammation compressible
Hypoglycemia may occur depending upon the site
Intestinal or urinary symptoms may occur if hemangiopericytoma tumor develops at the abdomen.
Pain felt at the advanced stage
Hemangiopericytoma Classification
Two distinct type of hemangiopericytoma is infant hemangiopericytoma and adult hemangiopericytoma.
Infant Hemangiopericytoma
The name itself can illustrate that it develops at the first year of life. It is believed that Infant hemangiopericytoma is a congenital defect . The usual tumor type is malignant and located at oral cavity or subcutaneous tissues. Chemotherapy is the option for management of hemangiopericytoma3,6.
Adult Hemangiopericytoma
Vascular tissues are mainly affected. The clinical features of Adult Hemangiopericytoma include the involved cell growth followed paricytoma pattern. The cells are closely arranged in the endothelial vascular channels. The usual onset of this disease is at 50 years of age of the adult. Very less histological differences are found in low-grade and high-grade hemangiopericytoma tumor. The local recurrence and metastasis at the distant organ are the cause of death3,6.
Hemangiopericytoma Diagnosis
The diagnosis of Hemangiopericytoma is not an easy task, as different types of tumor growth like a solitary fibrous tumor, synovial sarcoma, fibrous histiocytoma etc have same diagnostic features as Hemangiopericytoma. Therefore histological analysis has limited opportunity to detect the disease.
Immunohistochemistry also has limited options.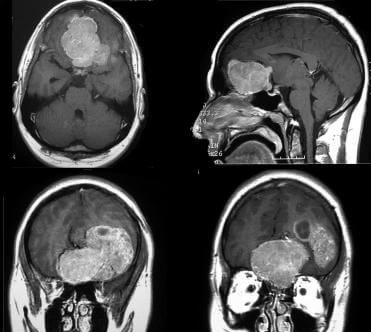 Therefore, histological differential diagnosis is conducted critically for detection of Hemangiopericytoma4,7.
Hemangiopericytoma Treatment
Hemangiopericytoma is a non-curable disease. The management of Hemangiopericytoma includes symptomatic and also restrict the growth of the tumor. The possible treatments are mainly invasive. Radiotherapy and chemotherapy also provided for treatment
In the case of Hemangiopericytoma sited in head and neck, the innovative medical techniques like Endoscopic Endonasal Approach (EEA) and Gamma Knife® radiosurgery are also recently introduced. Both these techniques are non-invasive and comparatively less painful. Both these therapies have faster recovery time7,8.
Hemangiopericytoma Prognosis
The Treatment prognosis is not yet good, specifically for adults. The affected individual can further have pulmonary metastasis, one of the major cause of death. The maximum survival rate is 10 years after detection of the hemangiopericytoma tumor, but mostly patients can survive 2 to 5 years due to multifold malignancy4,8.
References
Hemangiopericytoma Tumors; UPMC life changing medicine; Online available at http://www.upmc.com/services/neurosurgery/brain/conditions/brain-tumors/pages/hemangiopericytoma.aspx
My husband's courageous hemangiopericytoma journey; MD Anderson Cancer Center; Online available at https://www.mdanderson.org/publications/cancerwise/2014/07/my-husbands-courageous-hemangiopericytoma-journey.html
DP Marec-Bérard, (2004); Malignant Hemangiopericytoma, https://www.orpha.net/data/patho/GB/uk-HPC.pdf
Leo Francis Tauro, Celine George, Aroon Kamath, Sunil Sundaran, and Rohan Gatty; Hemangiopericytoma of the Hand; Indian J Surg Oncol. 2013 Mar; 4(1): 76–79.
Loriga JG, David CI, Evans H, Wallace S. A clinical and radiological manifestation of hemangiopericytoma. AJR. 1989;153:345–349. [PubMed]
Enzinger FM, Smith BH. Hemangiopericytoma. An analysis of 106 cases. Hum Pathol. 1976;7:61–82. doi: 10.1016/S0046-8177(76)80006-8. [PubMed] [Cross Ref]
Hogle WP. Malignant hemangiopericytoma: a clinical overview and case study. Clin J Oncol Nurs.2003;7:57–62. doi: 10.1188/03.CJON.57-62. [PubMed] [Cross Ref]
Pandey R, Patel A, Patel K, Shah S, Shah MJ. Aggressive Sino nasal hemangiopericytoma presenting with liver metastasis: a case report. Ind J Med Paed Oncol. 2005;26:50–52.
Similar Posts: