What is Granulosa Cell Tumor?
Granulosa cell tumor is a type of stromal tumor affected at the sex cord of the ovary1,2.
Prevalence
Almost 2 to 5 percent of ovarian neoplasms are mainly Granulosa cell tumor. Usually, younger aged women have more prevalence to develop Granulosa cell tumor. Study result showed that in between the age of 17 to 71 years, women have a high prevalence to develop Granulosa cell tumor1,2.
Types
Depending on the age of the onset Granulosa cell tumor, it has been divided into two types: (1) juvenile type and (2) adult type.
Juvenile type
The onset of the Juvenile type of Granulosa cell tumor is developed at the pre-pubertal stage of a girl and that can extend up to 30 years of age. This type of Granulosa cell tumor is rare and almost 90 percent of Granulosa cell tumor is the juvenile type. Almost 90 percent of the Juvenile type of Granulosa cell tumor occurs before puberty.
Adult type
If Granulosa cell tumor is developed after 30 years of age of a woman then that is called adult type. However, the adult type of Granulosa cell tumor is a common type of Granulosa cell tumor.
The onset of the tumor often occurs in women at the perimenopausal and postmenopausal stage. Usually, 50 to 55 years of age is peak duration, when a woman has a higher risk to develop Granulosa cell tumor1,2.
Symptoms
The included symptoms of Granulosa cell tumor are as follows:
Abdominal pain
Abdominal distention
Formation of mass
Irregular menstrual cycle
Postmenopausal bleeding in case of women who have their menopause
A large sized palpable ovarian mass1,2,3
Pathophysiology
Granulosa cells can be differentiated from the mesenchymal precursors or coelomic epithelium. Granulosa cells are responsible for the synthesis of the sex steroids and a variety of peptides. Both of these granulosa cells products require for folliculogenesis and ovulation.
Granulosa cell tumor is originated from Granulosa cells, which are tiny oval or circular shaped pale cells with having coffee- bean nuclei. The major pathophysiological findings showed that hyperestrogenism is accountable for Granulosa cell tumor.
The usual appearance of Granulosa cell tumor is a bulky mass with a russet yellow colored due to the production of steroids. The mass is the solid and cystic type that located unilaterally. The usual size of the mass is less than 10 cm; however, the Juvenile type of Granulosa cell tumor is larger in size (average 12.4 cm).
Most of the Granulosa cell tumors have microfollicular patterns. Apart from microfollicular patterns, other differentiated patterns include macro-follicular, insular, trabecular, hollow tubular and solid-tubular patterns1,2,3,4.
Etiology
Apart from age factor, abnormal chromosomal mutation is also responsible for the onset of Granulosa cell tumor. The identified abnormal chromosomal involvements include removal of chromosome 6 or trisomy 12 and/ or monosomy 22 chromosomal abnormalities.
In juvenile granulosa cell tumors, the involvement of removal of chromosome 6 and trisomy 12 are responsible etiology.
In some cases, other types of co-morbidities like Potters syndrome and Peutz Jeghers syndrome may turn to form Granulosa cell tumor.
Some hormonal therapy like SERM (selective estrogen receptor modulators), gonadotropins and clomiphene citrate drugs exposure for prolonged period can increase the risk of Granulosa cell tumor formation1,2,5.
Diagnosis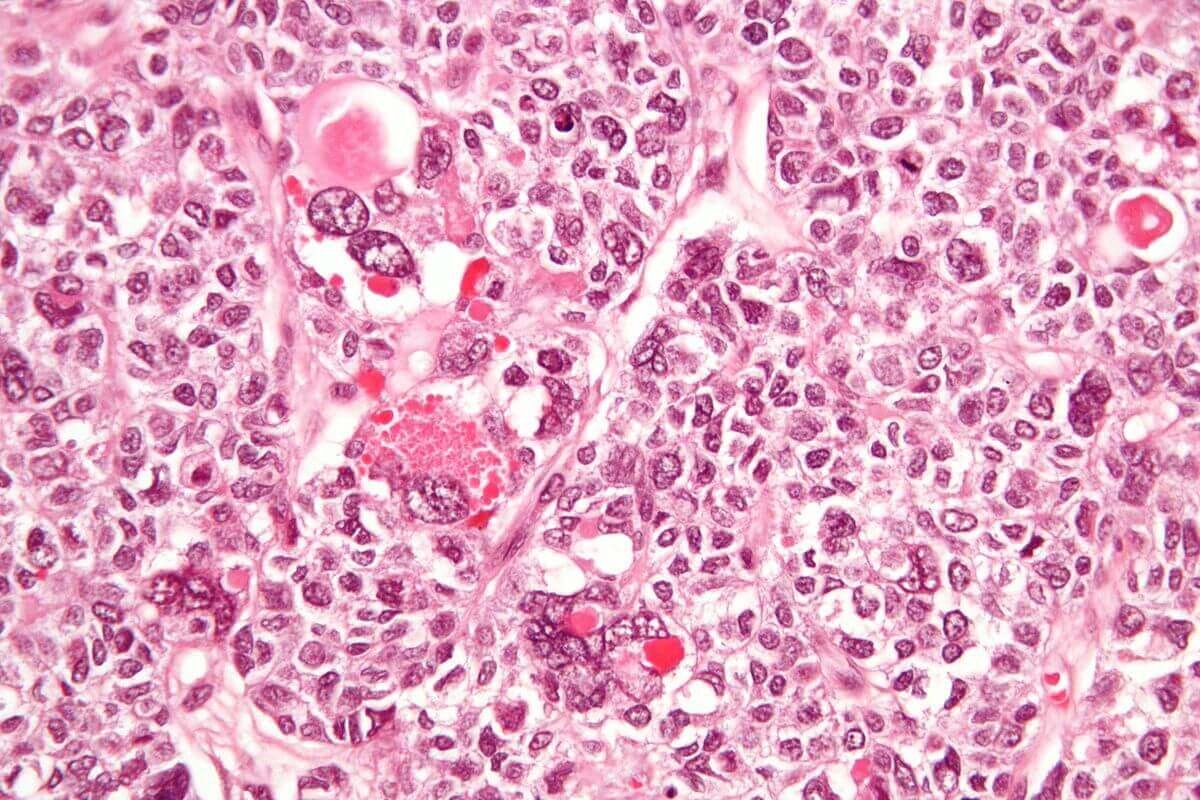 Granulosa cell tumor can be diagnosed by using radiological imaging tools. The imaging system provides some classic features, which can assist to diagnose the Granulosa cell tumor.
Granulosa cell tumor is restricted at the ovary without having intracystic papillary protrusions. This type of tumor usually not spread to the peritoneal region with the rare bilateral finding.
Over estrogenic action resulting enlargement of the uterus and thick endometrial development. Rarely ascites found in Granulosa cell tumor.
In addition, differential diagnosis is performed to exclude the possibility of uterine cancer that spreading to ovary; ovarian cancer that spreading to the endometrium; Synchronous endometrial and ovarian cancer1,2,3.
Treatment
Granulosa cell tumor treatment and prognosis depends upon the diagnosis stage of the tumor. However patient age, stage of the tumor, associated complications like rupture of the tumor etc. also play a role before planning to the treatment of the Granulosa cell tumor.
Surgical intervention is the primary treatment modality for Granulosa cell tumor. Depending upon the patient age, the doctor can opt for total abdominal hysterectomy in the case of postmenopausal women or who completed their family planning.
In the case of childbearing-aged women, the doctor can perform bilateral salpingo-oophorectomy depending upon the stage of the tumor.
Other treatment options include chemotherapy, adjuvant chemotherapy, and radiation. The included chemotherapeutic agents are doxorubicin, cyclophosphamide, vinblastine, bleomycin, etoposide, and bleomycin. These drugs may use alone or in combination.
Early-staged diagnosis and complete removal of the tumor provide good prognosis in Granulosa cell tumor. However, advance staged Granulosa cell tumor or high metastasis or surgical intervention cannot completely remove the tumor cells can cause poor diagnosis. In these cases, the risk of recurrence of the tumor is high1,2,5.
References
Divya Khosla, Kislay Dimri, Awadhesh K. Pandey, Rohit Mahajan, Romeeta Trehan. Ovarian Granulosa Cell Tumor: Clinical Features, Treatment, Outcome, and Prognostic Factors. N Am J Med Sci. 2014 Mar; 6(3): 133–138. https://www.ncbi.nlm.nih.gov/pmc/articles/PMC3978936/
Vijaykumar Dehannathparambil Kottarathil, Michelle Aline Antony, Indu R. Nair, Keechilat Pavithran Recent Advances in Granulosa Cell Tumor Ovary: A Review Indian J Surg Oncol. 2013 Mar; 4(1): 37–47. Published online 2012 Dec 7. doi: 10.1007/s13193-012-0201-z. https://www.ncbi.nlm.nih.gov/pmc/articles/PMC3578540/
Schumer ST, Cannistra SA. Granulosa cell tumor of the ovary. J Clin Oncol. 2003;21:1180–9.
Stuart GC, Dawson LM. Update on granulosa cell tumours of the ovary. Curr Opin Obstet Gynecol. 2003;15:33–7.
Lee IH, Choi CH, Hong DG, Song JY, Kim YJ, Kim KT. Clinicopathologic characteristics of granulosa cell tumors of the ovary: a multicenter retrospective study. J Gynecol Oncol. 2011;22:188–195. doi: 10.3802/jgo.2011.22.3.188.
Similar Posts: