Anaplastic Astrocytoma is a type of cancer that often affects the brain. The word anaplastic or anaplasia denotes the backward differentiation of cells linked to malignancy. It may also refer to the increased ability of cells to multiply. Such a lack of differentiation and upsurge in reproduction are the trademarks of aggressive malignancies. Astrocytes on the other hand refer to the supportive tissues of the brain. These cells are highly distinguishable from other cells because of their highly defined star-form. Therefore, anaplastic astrocytes refer to the cancer of the astrocytes found in the brain.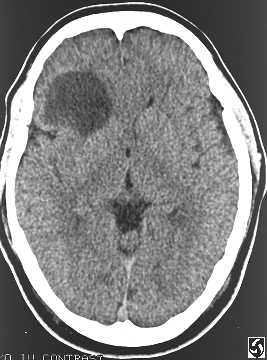 Anaplastic Astrocytoma as seen in an MRI
Symptoms
Since this condition is found in the brain, most of its symptoms are neurological in nature, most of which stem from increased intracranial pressure. The common symptoms include:
Headache
Vertigo
Nausea and Vomiting
General Body Malaise
Motor Deficiencies
Hormonal Imbalances
Change in Consciousness, Thought Process, Behaviour and Orientation Problems
Seizures
Causes
Most cases of anaplastic astrocytoma do not have definite causes, meaning the disease happens sporadically and there is not much that can be done to prevent it. Studies however reveal that it has close links to families that have:
Neurofibromatosis Type I
Tuberous Sclerosis
Other causes:
Exposure to vinyl chloride
High doses of radiation.
Classifications
The World Health Organization identified four grades for classifying Anaplastic Astrocytoma depending on the cell's speed to multiply and spread to surrounding tissues. Noninfiltrating astrocytomas grow at a slower pace than infiltrating ones and are less common than the infiltrating types or diffuse astrocytoma.
Grade I
This grade is often the noninfiltrating type. One of its kind is the ACOUSTIC NEUROMA which affects the eight cranial nerves affecting one's hearing and balance. It may grow at a sluggish pace but can grow to a really big size.  Children and teens are often the ones affected by this grade.
Grade II
This grade covers infiltrating tumor also called as low-grade astrocytoma. The features of its tumor include growing really slow without well-defined borders. This is most prevalent among adults between the age ranges 20-40.
Grade III
It is also called as anaplastic or malignant astrocytoma because compared to the other grades it grows rather quickly and is common among adults aged 30 to 50. It accounts for 4% of all brain tumors. 30-40% of patients are able to survive for 3-5 years.
Grade IV
It is more commonly called Glioblastoma (GBM)which is the most aggressive kind of brain tumor. It is also known as Glioblastoma Multiforme because of the many structures it can take when viewed under the microscope. It affects mostly older individuals aged 50-80 and it accounts for 23% of all primary brain tumors. Patients have decreased chances of surviving this type compared to those in Grade III as they are only given 2 years to survive.
Treatment
It will be the physician's role to suggest the right and specific intervention needed to address the specific type of brain tumor. The physician's choice will depend on the client's age, overall health and health history, characteristics of the tumor (type, location, size), extent of the illness, ability to withstand specific medications, procedures or therapies, and the doctor's perception on the progress of the disease. The patient's opinion or preference may also be taken into account.
The following treatment interventions may be used alone or in combination:
Surgery. This may be done for a number of reasons such as treatment of increased intracranial pressure, biopsy and removal of the tumor. Other than that, it can be practiced to facilitate rightful assessment of the disease condition through modern technology such as intra-operative MRI.
Radiation Therapy. This is the use of strong-energy radiation rays to shrink and eventually kill tumor cells. Precautionary measures should be practiced in order to avoid the unnecessary complications of radiation therapy.
Chemotherapy. This occurs with the use of pharmacological therapies to stop the progress of cancer cells. It aims to attack and avoid the spread of the cancerous cells. For it to be a lot more effective, it can be used in combination with other chemotherapy agents.
Prognosis
Prognosis is done on the patient's brain tumor so that scientists and other health professionals can come up with a possible cure or treatment to control the illness. It will help patients live a little longer and happier. It shows that the adverse effects experienced will only worsen if no immediate and appropriate medical attention is provided for the patient.
Survival Rate
This condition's prognosis has come to 3 major conclusions about the patient's survival rate through its retrospective studies.
There is a high probability of 83% chance of surviving or 10 years of overall survival if diagnosed early on and proper interventions are made. If the tumor hasn't been completely removed, half of the patients are expected to live for the next 5 years.
For those with cases of juvenile pilocytic, prognosis reveals that the patients who have been asymptomatic for 5 years have a 60% chance of surviving and a 85% chance for those with 10 years of being symptom-free. The strongest predictor of the outcomes is the extent of the surgical resection. Those with total resection have the highest survival rate.
Anaplastic astrocytoma prognoses with High Grade Astrocytoma among youngsters are poorly appreciated. They have a survival rate of 15-20 % when different treatment approaches have been practiced in combination with others such as chemotherapy and radiotherapy. Outcomes may increase if a full tumor resection has been sought.
Life Expectancy
Generally, a patient is given five years to live if all treatments have been exhausted without success. The reason behind this is the fact that total removal of the tumor is generally impossible, thus increasing the chances of relapse. The life expectancy depends on the amount of tumor removed and how it has already affected the overall brain function of the patient.
Further Reading:
http://csn.cancer.org/node/162906
http://nyp.org/health/anaplastic-astrocytomas.html
http://brain.mgh.harvard.edu/glioblastoma.htm
Similar Posts: