What is Anaplastic Thyroid Cancer?
Anaplastic Thyroid Cancer is a type of cancer affecting the thyroid that occurs rarely and has a poor prognosis. It is has an aggressive behavior and is able to resist the many treatments for cancer.
It has the ability to rapidly invade the tissues surrounding it, such as the trachea for instance. It is considered to be the most deadly form of thyroid cancer. It is reported to be seen mostly in persons aged 60 years and above and occurs more often in women than men. The cause of this type of thyroid cancer is still unknown.  It is often associated with the well differentiated thyroid cancer.
Anaplastic Thyroid Cancer Symptoms
Persons who developed anaplastic thyroid cancer can experience the following symptoms and signs:
Lump in the lower neck region
Hoarseness of the voice
Cough
Breathing is loud
Coughing with blood
Swallowing difficulties
The main symptom of this type of cancer is the rapid growth of the tumor in the thyroid gland, which may affect the nearby organs like the esophagus and the lungs.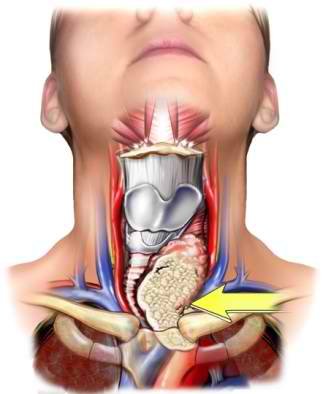 Anaplastic Thyroid Cancer Showing Tumor Growth and Compression of the Trachea
Anaplastic Thyroid Cancer Treatment
When it comes to treatment of anaplastic thyroid cancer, the central approach to it is palliative treatment.  One should know that this type of thyroid cancer is non curable by the common treatment modality for cancer such as surgery, for instance. The palliative treatment approach includes radiotherapy in combination with chemotherapeutic treatment.
Palliative therapy
Surgical removal can also be done but only side by side with radiation therapy and chemotherapy to be able to achieve palliation therapy. Palliative therapy may mean that the aim of the treatment is not curing the disease, but the improvement of the quality of life.
Adjuvant therapy
If the person has an unresectable anaplastic thyroid cancer, a surgical procedure is done that is then followed by adjuvant therapy, which consists of radiotherapy and chemotherapy.
Anaplastic Thyroid Cancer Prognosis
As mentioned, the general prognosis of persons who are diagnosed with anaplastic thyroid cancer is poor. Most often they do not respond well to the treatment provided.
In addition, this type of thyroid is aggressive and progressively expands to nearby tissues and organs. Often times it is reported that this type of thyroid cancer does not respond well to the radioactive iodine treatment or to chemotherapeutic agents.
Surgery is sometimes the most applicable treatment regimen for this type of thyroid cancer.
Anaplastic Thyroid Cancer Survival Rate
This is a serious type of thyroid cancer which can result in death. According to experts, the general survival rate of persons with anaplastic thyroid cancer only live approximately 6 months to one year after diagnosis.
According to data gathered, five percent of persons with this type of cancer had been battling  the disease for five years from the time they were diagnosed. In addition, less than ten percent of persons with this kind of thyroid cancer have been suffering this disease for three years.
Similar Posts: